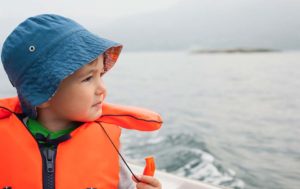 While the season actually begins in early spring, here in Delaware, the pace really picks up with the coming of the 4th of July. And from that holiday until Labor Day, our waterways are busy with the traffic of enthusiastic pleasure boaters.
We all enjoy getting out on the water and experiencing the freedom that comes with being away from our everyday cares. But unfortunately, it seems that the first few weeks of summer usher in somber reminders that boating safety has slipped from our minds.
Thankfully we don't see too many serious boating accidents here and many, if not all, of these incidents could have been avoided. Alcohol, lack of proper equipment, and just plain poor planning have figured into the findings for recent mishaps.
That's puzzling for me because most of the boaters that I encounter in our store and on our waterways are responsible, caring individuals. We can all make mistakes, I know, and it only takes one to spoil a beautiful day.
So, let's think for a moment about some things we should be doing for our own boating safety that will in the long-run contribute to everyone's boating fun. Here's a quick 10-point list that can be of benefit to even the most seasoned of us "weekend skippers":
1. Be Weather-Wise
2. Follow a Pre-Departure Checklist
3. Use Common Sense
4. Designate An Assistant Skipper
5. Develop A Float Plan
6. Make Proper Use of Lifejackets
7. Avoid Alcohol
8. Learn to Swim
9. Take a Boating Course
10. Consider a Free Vessel Safety Check
If there is anything that we at Lingo Marine can do to help you complete your boating safety checklist, you only have to ask.
Let's all come back after Summer 2018 with plenty of good stories and pleasant memories. And, don't forget the pictures! We would love to share your boating fun with all our readers.
Make this a happy and safe summer on the water!
Dale
Photo courtesy Travelers