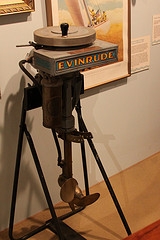 "The history of the outboard motor is as simple as its operation, and a testament to ingenuity. It was invented in 1907 by Ole Evinrude, a pattern maker by trade. Ole finished his first motor in 1907, and even to this day outboard motors are basically the same. Using Ole's idea of a vertical crankshaft, horizontal flywheels, and set of bevel gears, today's Evinrude motors will propel a boat a bit faster than the '07 version – 150 mph versus 5 mph!
Since its invention, the outboard motor has come quite a way in terms of technology, efficiency and performance. Throughout the years, other engineers have expanded on Evinrude's ideas and made the outboard motor one of the most remarkable inventions of the century. Ole Evinrude is a great example of the entrepreneurial spirit and the innovation that mark much of boating culture."
When I read this recently, I knew this important part of boating history was worth sharing. It also brought something to mind that holds special significance for me.
I thought how much in common there is among people with a vision and a desire to make things happen. Mr. Evinrude and my father shared those qualities. Dad and Mom started Lingo Marine 55-years ago and grew the business, and a family that would one day carry it on.
Throughout the years, their ideas have been expanded upon, as the business has experienced growth and change. And today, we turn a new page – well, a website page – as we continue to challenge ourselves and fulfill the vision passed down to us.
Check out the "new LingoMarine.com". Like any remodeling project, there may be some wet paint over here or some missing trim over there, but we think you'll like what we've done so far.
Tell me what you think.
Dale
Outboard motor photo Courtesy of Outboard Motor Oil Blog